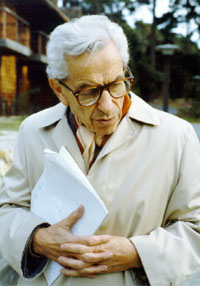 Paul Erdős was a "mathematical pilgrim with no home" and one of the most prolific mathematicians of the 20th Century:
Never, mathematicians say, has there been an individual like Paul Erdos… [He had] more than 1,500 papers to his name…

Concentrating fully on mathematics, Dr. Erdos traveled from meeting to meeting, carrying a half-empty suitcase and staying with mathematicians wherever he went… [New York Times, 1996]
According to legend he'd live with a colleague for a week or two. Together they'd collaborate and write a paper. He eventually published with 458 mathematicians! He was a like a bee pollinating flowers.
This fall I'll live like Erdős and couchsurf between college towns in North America for five weeks. My hosts and I will brainstorm how the Internet changes our:
Later I'll digest our discussion and write a chapter of a book in progress. I'll list everyone as a collaborator/co-author. This method of writing is awesome because it combines the manic passion of face to face brainstorming with the diversity of geographically remote collaborators.
Couchsurfing.com is a safe way to meet 1 Million people worldwide. I traveled this way last spring for two months speaking at universities which hosted our Digital Literacy Contest. My profile lists some of the 20+ amazing people I've met along the way. Most of them are creative and progressive people who march to the beat of their own drummers.
I've stayed with graduate students studying everything from physics, moss, sociology, hypertext and supply chains. I've stayed with a sales executive in the banking industry and a music school student studying violin. There was the guy who had breakfast for years on Sundays with one of my undergraduate idols, Douglas Hofstadter, and said, "Oh, Doug? He's okay… a good self-promoter." (!)